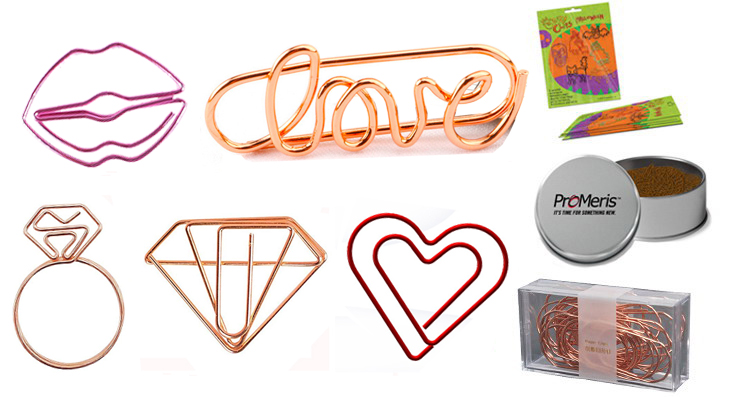 We create this website is just to provide solutions for those who are interested in paper clips and its multiple uses(such as decoration, promotion etc). We are also specialized in some extended business such as wire hat clips, money clips that are applied with same technologies.
If you have some trouble in perusing our website, then just try to do some reading of this guide first.
To learn some knowledge about paper clips, you could visit the pages like these:
Paper Clips; Shaped Paper Clips; Logo Paper Clips; Decorative Paper Clips
To learn the points about the packagings, colors and manufacturing technologies, you could visit the pages as below:
Packaging Options; Color Options; Tech Options
To learn the overview of all the paper clip in different themes and styles, you could check out these pages:
If you would like to order that many for the moment, then you could probably visit the Retail Area to view the stocked designs of paper clips, or just drop us a line to inquire what we can be able to do for your special request.
Also, underhere are some brief information about quantity, price, payment and shipping methods, if there's anything else in doubt, just don't hesitate to contact us for more details.
QUANTITY & PRICE
If the custom logo paper clips are made of iron wire with vinyl coat in PMS colors, then the required minimum order quantity is 100 000 pieces per shape per color, because the wire supplier sells the vinyl coated wire in bulk. But if you don't have any special request on color, in other word, if any generic colors in our color chart work for you, then the minimum order quantity will be usually 3-5 000 pieces per shape. But, if what you expect to get is still a little bit less than that,then you could contact us by dropping a line to check if it is available.And if what you want is retailing quantities,then you could directly buy from our e-commerce website.If you want a less quantity with a custom color,theorectially it also works,but there will need a color-matching fee(Usually the bigger the quantity is,the lower the color-matching fee will be).And,if you want to work with us as a teamwork to open up a new, and long-term business, then we could talk more about quantities and prices, we could consider providing more discounts during cooperation.
As for the prices, they are firstly for FOB China's port. If you would like an issurance for cargo, then you would need pay it additionally.
Also, the costs are also calculated based on the actual shapes of custom paper clips.It means,the more complicated the shapes are,then the higher the prices will be.
The third factor affects prices is "quantity".if you buy more,then the discounts available will be more.And,if you are a frequent buyer,or want to discuss any custom project with big quantities that is not listed on our website,you could also contact us directly to get the details,or check if there's any voucher for present.
Also the color sometimes affect the price as well,especially when you look for a custom PMS color which is not listed in our color chart,also the cost of the some electroplated colors are generally much more than those common colors of paperclips.
PAYMENT
Payment Terms
For all the shaped paper clips as listed on the e-commerce website in our collection,you could directly buy them.The payment will be down once via Paypal system.For custom projects as an official order,once we bilaterally agree on all the details,then you would need pay 30-50% as the deposit to launch the order production.After that,when the production comes into the closure,usually we would take,and send the high-resolution photos of all the details including paperclips,colors,packaging,shipping marks if there is,in correct way.Then you would need pay the balance to confirm the shipping,sometimes pay upon the copy of B/L if shipping via air,or sea.
Payment methods
In general,we provide these methods as below to accept payment abroad:
1.Wire transfer through bank
This is one of the most prevalent ways to make the remittance bilaterally during transactions. Especially if the amount of payment is big, then it would be a terrific way to transfer the money to save the banking fee. In nowadays it would need you to provide sales invoice and tax paid proof due to the tightening control of foreign exchange.
2.Paypal Invoice
It is also one of the favorable payment methods internationally.In China,you could make the payment via Alipay.But,for overseas markets,Paypal would be a more well-known way for small amounts due to the lower transaction fee,usually below US $500.For the amounts over US $500, it would be more economical to do the transfer through bank.
3.Western Union
It is a fast and simple payment method for the trade. If making the payment through Western Union,usually you could use the information of ours as following:
First Name:Zhe Dong
Last Name:Zhou
City:Sheng Zhou
Province:Zhe Jiang
Country:China
Tel:86-15267511098;86-575-83353700
Otherwise you would need to keep us know the information of payer as below:
First Name and Last Name of remitter;
City Name,State Name,and Country Name of remitter;
There's also a 10-digit control number you would need provide to release the payment.
4.Credit Cards
Such as Visa Cards, Master Cards.
SHIPPING
1.Airmail of China Post
This is the default shipping way for the products on our website.It is perfect for the retailing quantities you buy from us.and it would take about 15-40 days to arrive.But please note they are still probably not right for a special,urgent event cos' its shipping time is usually unsteady.If you don't mind a CHEAPER,but SLOWER shipping,and can endure more than 2.5-5months to get the package,then they also could be shipped by SAL(Sea And Land) – China Post,then you could contact us to work out a new cost for you please.
2.Courier/Express Delivery
It is the fastest,but the most expensive on shipping cost.In my experience,for the goods over 0.7KG(equal to 470clips approx.), but below 50KG, courier is the most economical while fastest shipping way of all.
3.Air Shipment
Air Shipment usually takes about 7-10 days to arrive.It is suitable for the order in big quantities,and you would like to get them in short time.It would need the consignee has the right of import. If not, then you would need find a shipping forwarder to assist you to do the customs clearance.
4.Sea Shipment
Sea Shipment usually takes about one months to arrive in Occidents. If it is shipped to some Asian countries such as Korea, Japan, Taiwan…It would need take about 7-10 days approx.and it is also more suitable for the order in big quantities and there's no urgency to get the order.Just as the air shipping, it would need the consignee has the right of import. If not,then you would need find a shipping forwarder to assist you to do the customs clearance.
If what else you have still in doubt, please don't hesitate to contact us via:
inquiry@custompaperclips.com +86-15267511098
Thank you!
Jack