Memo Clip Holders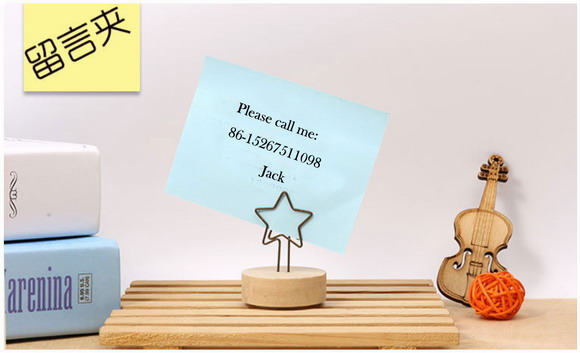 Memo Clip Holders

Memo clip holders sometimes are also called memo clips, picture clip stands, note clip holders, note hold clips etc, because it can hold not only memos, notes, but also pictures and photos on a desk, dining-table, counter etc. It has so many applications and patterns for different occasions and purposes. The memo clips in our selection are more than a clip-on, ordinary holder which reminds you something special. They are also fantastic decorative accessories, business gifts, creative stationery and advertising promotional gifts with its free, diversified designs.

We specialize in a variety of memo clips made of wire: a shaped wire clip on the top with a base made of different material which could be metal, wood or plastic.

For more details, please visit our category of memo clips to learn.

When it comes to a memo clip, we immediately think of an alligator clamp.

In our technological capability and collection, it's got a greatly further and flexible development. We can produce various heights upon different requests from our customers and for different applications such as place card holders.

Also, for the colors, usually they are in silver or metal color. And we have many more options upon customers' requirements: black, blue, green, gold, orange, red, pink, purple etc. And the base styles and materials vary with different types as well. They could go with circle, cube in bases, and wire, metal, plastic or resin in colors. All of them are effective paper sign holders, and what's more, some of them have more than one on the same assembly which allows users to display several messages, cards, photos and reminders at one time.

Materials

We usually iron wire in the wire diameter of 1.5mm for memo clip holders. As for the base, it depends upon different requirements of customers.
Multiple uses & occasions

Retail Environment – Any places about retail environments which are perfectly right for clip-on items such as our memo clip holders which show sales or latest promotional prices or inventory information: retail stores, restaurants, cafes, bakeries, offices to display the information about prices, fresh merchandise, food or drink menus etc.

Promotional events - We can make the clip on the top into different logos for next promotion to show the individuality of your business, getting your point across via custom memo clips. They are perfect for next promotion to show the individuality of your business as promotional gifts or business gifts, a fun way to show affection to customers, visitors, participants, getting your point across.Featured and cheap advertising promotional gifts are always hard to get. These are just the perfect source to go. You could choose either a common one such as alligator clamp for general use, or a custom shaped one for your special event.

Occasions of Work, Receptions and other large events – These are a great helpmate to promote people to work more effectively in schools and offices. In receptions and some large events – It is a great fixture to use the card holders for seats to enumerate tables or present name cards which navigates guests to find their own seats more easily in any corporate outings or formal banquets.

Residences and Personal Offices – These are also the ideal places for decorative memo or picture stands by highlighting photos or pictures on a desk or coffee table to share them with other people or the members of company or family.

Any Occasions for Sheer Decoration – The wire shapes on the top of memo clips are a fantastic decoration for desk accessories or any business occasions, activities as a cute ornament. For instance, heart memo clip holders could be for charity evening or Valentine's Day.

The wholesale display for photos makes a thoughtful favor or gift for events, like bridal showers, Bar Mitzvahs and birthday celebrations. Giving out the clip holders with custom photos of hosts or attendees, visitors would be an extraordinary experience and memory for all the people after the reunion or party.
Colors

(1) Spray-paint colors Spray-paint (also called Baking Varnish) colors in some special PMS (Pantone Matching System) numbers call for a color-matching cost upon customer's request. The key point of this technology requires a good-quality workmanship otherwise the paint would easily brush off. Also please it it can't cover all the joints, cracks and overlaps.
(2) Electroplated colors When we talk of metal colors, usually it refers to electroplated silver color. Other than that, they also can be made into electroplated gold, rose gold, chromatic colors.
Terms of Minimum Quantity

The minimum quantity mostly depends on the color issue. For a custom PMS color, the MOQ will be about 5 000 pieces, gold color would cost additionally according to different technologies.
For the standard colors as showed in our color chart, the minimum quantity could be smaller.
Order Process of memo clip holders

(1)For the existing styles in our collection, you could proceed to the purchase directly from us.
(2) Custom Projects of wire shape paper clips
First, please keep us informed your order requests such as material, sizes, quantity you would like to get, etc.
Second, we provide the mock-up design of custom project for your confirmation.

Third, we proceed to the mass production upon the approval on every detail and payment or deposit.
Fourth, we would send out the goods after confirming the completion of order, providing the tracking number.
Payment Methods

1. Paypal (recommended)

When you proceed to the purchase on our website, the payment would be finally redirected to "Paypal Checkout" to be made. It is safe and quite convenient, and would only take a few minutes to finish.

2. Wire Transfer

For the amount over US $500), in most cases it would be more reasonable to proceed via bank transfer fully, or partially to save the transaction fee. But presently it comes into our account only with the name of "labor fee" or "service charge" due to the foreign exchange control, also you have to provide the tax proof. It usually takes 1-3 workdays to arrive for wire transfer. The bank information of ours is as follows:

Beneficiary Bank:

BANK OF CHINA SHENGZHOU ZHEJIANG

Swift Bic.:

BKCHCNBJ92D

Beneficiary Name:

ZHOUZHEDONG

Address:

1 DONG NAN ROAD SHENGZHOU ZHEJIANG

A/C No.:

452673001880990193

3. Other Methods

Western Union and any other payment methods would be also workable if we both agree on that.
Contact & Inquire Us

If you are looking for a custom solution for your project, or anything you could count on us, please just contact us for a further direct discussion via our Contact Us page or the information below:
E-mail: inquiry@custompaperclips.com
Tel: +86 152 6751 1098 +86 575 8335 3700;
Thanks for your attention!
Jack Chou
Some important guy