PAYMENT
Payment Terms
First, all of our prices provided are based on FOB China's port, which means if you expect a compensation for any possibility of damage, missing, shipping delay caused by war, earthquake, incident of violence, or customs inspection of your packages, and other force majeure factors, you probably would need to find a third-party insurance company to secure the shipping for your order with an extra fee.
Second, For all the products as listed on our website, you could directly buy them. The payment could be down at a time through Paypal system For custom projects as an official order with large amounts of money we bilaterally agree on, then you would need pay 40% as the deposit to launch mass production. After that,when the production comes to closure, usually we would take and send the high-resolution photos to show the order status about all the details: colors, packaging, shipping marks etc. then you would need to pay the balance to confirm the shipping, sometimes pay upon the copy of Lading Bill if the shipping is processed via air or sea.
Also, if your order is for a special, urgent event, please do not forget to advise us the deadline in advance which would quite help for our work deployment. Otherwise we wouldn't be responsible for your loss on payment once the order delivery is delayed by customs or international express companies that both usually don't ensure the deliery time limit as well. But we would definitely be reponsible for any product defects or discrepancy.
Payment methods
In general,we provide these methods as below to accept payment abroad:
1.Paypal (via Credit/Debit Card)
We are usually apt to deal with payments through credit cards. Paypal invoice provides the channel of Credit / Debit Card as shown below. And I guess it is easy to get a credit or debit card in most countries.
We do have a visa card, just not sure how the payment flows transnationally between us since we are in China. I believe it would be a pretty easy thing if we were in the same country. So we take Paypal as an intermedium to establish a payment bridge with mutual credit cards.
However Paypal payment doesn't require that you have to open a Paypal account as well. When the order and payment is approved, we usually would send you a Payment link, then you can visit the link and make the payment either through your Paypal account(if you have one) or with your credit card (if you haven't one yet) via the "Credit or Debit Card" Channel as below.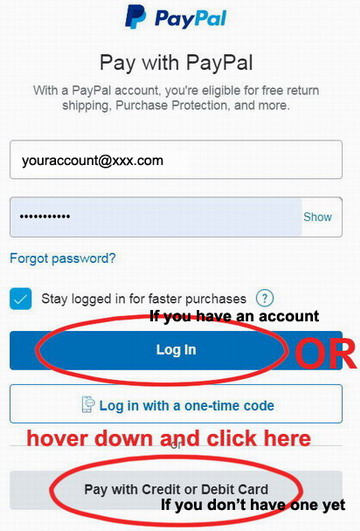 2.Wire Transfer
This is one of the most prevalent ways to make the remittance in the trades among people. But, if the sum of payment is big, then the it would be also a better way to process it via wire transfer to save transaction fees. It usually need take about 3-5 workdays to arrive transnationally. And for now it might require you have to provide invoice and duty-paid proof as well due to the current exchange control. Please send us the bank slip as a payment proof after you proceed to the remittance for each order as approved.
3.Western Union
It is a fast and simple payment method for the trade.If making the payment through Western Union, usually you could use the information of ours as following:
First Name:Zhe Dong
Last Name:Zhou
City:Sheng Zhou
Province:Zhe Jiang
Country:China
Tel:86-15267511098;86-575-83353700
Otherwise,you would need to keep us know the information of payer as below:
First Name and Last Name of remitter;
City Name,State Name,and Country Name of remitter;
There's also a 10-digit control number you would need provide to release the payment.
Our suggestion is Paypal invoice(or any other similar third-party payment platform we registered) would be presently the most recommendable method for transactions.
At our side we just take it as an intermedium. And for you, you could just process payments through either your Paypal account or your credit or debit card. More importantly in my view, there will be also a money-back guarantee through dispute system.
However we would be okay with any other ways with which you feel most convenient and secure.

If you have any other questions, just don't hesitate to contact us via inquiry@custompaperclips.com or phone 86-152 6751 1098 any time.
Jack Chou
Some important guy