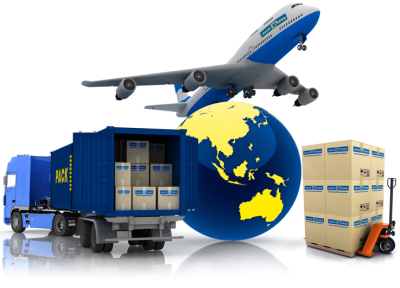 SHIPPING
Please note that all the quotes of our paper clips, binder clips and others are just based on FOB China's port.
You can have us to send the goods to the houseware of your own shipping forwarder and deal with the subsequent shipping on your own if you have a better price. And in many cases, you can prepay the freight, and we arrange to ship the goods upon your request. In such a case, we would actually implement and follow CNF(C&F, cost+freight) terms.
If you insist on the necessity of insurance, you may need a third-party organization to secure the shipping.
It is strongly advised that if you are in a hurry to get our products for an urgent special event, please do not forget to inform us the deadline of order delivery beforehand, so we could check the possibility to see if we can catch up with it and decide how to deploy our work schedule according to actual situations.
1. Airmail or Postal delivery of China
Airmail and postal delivery are more fit for those orders in retailing quantities you buy from us. Please also note they are probably NOT right for a special, urgent event cos' its shipping time is usually unsteady.
Airmail would take about 15-40 days to arrive. Postal transport usually takes 2 months, sometimes 5 months. So, if you don't mind a fairly CHEAPER, but SLOWER shipping, and waiting that long to get the package, then please contact us to work out a new cost for you please. The shipping routes include International Package (mostly SAL - sea and land), International Packet etc.
2. Express Service Delivery
For worldwide express delivery, we usually process it via DHL, UPS, FEDEX, TNT, sometimes some special express lines to America or Europe. It usually takes about 5-7 workdays to arrive but comparatively higher on freight, and applies to all the packages for urgent events. If you are really in a hurry to get a package, you could also contact express companies' facility to pick it up in person with the tracking number when it arrives in the vicinity to shipping destination to shorten the delivery time.
3. Air Transport
Air transport usually takes about 10-14 days to arrive. It is suitable for the order in big quantities, and you would like to get them in short time. It would require the consignee to have the right of import. If not, then you would need to find a shipping forwarder to assist you to do the customs clearance.
4. Ocean Transport or Clipper
Ocean transport of Melson or Yi Xing Clipper usually takes about 25-30 days to arrive in western countries. If it is shipped to some Asian countries such as Korea, Japan, Taiwan…It would need take about 7-10 days approx. And it is also more suitable for the order in big quantities and there's no urgency to get the order. Just as the air shipping, it would need the consignee has the right of import. If not, then you would need to find a shipping forwarder to assist you on customs clearance.
Besides the shipping ways as above, you also can pick up goods in person at the location of our factory, or by your designated shipping forwarder in China for the upcoming shipment.
You could inform us in advance when it comes to the shipping arrangement. Usually we have a variety of different options available to select a most suitable route for your project.
On the whole, if your order is urgent for a special event or promotion, mostly you should give priorities to express delivery(DHL, Fedex, UPS, TNT etc), air transport. Otherwise if you don't have any request on delivery time, Ocean transport, clipper, or postal delivery would be probably better due to lower freights.
Let us know if anything else you can count on us.
Thank you!