We have the category of custom binder clips in a variety of different styles, specifications and imprints.
The main feature of decorative binder clips is we integrated shaped paper clips with conventional binder clips. They look greatly cuter, more practical, lovely and stylish.
Creative Stationery - Greatly creative and useful for the paper work of any organizations about books: bookstores, libraries, schools, offices, or use it as money clips.
Promotional Gifts - Perfect for your next promotion to show the individuality of your business, getting your ideas across via custom logo designs.
Decor Accessories - Terrific for the decoration to any gift books, DIY greeting or invitation cards, gift package toppers as ornaments.
Business Gifts - Fantastic for friends, customers, visitors to show affection in holidays or business occasions.
There are several specifications(19mm,25mm,32mm,41mm,51mm...etc) of binder clips as below: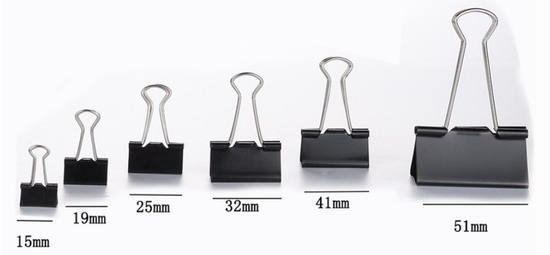 If you would like an order of customized binder clips, then please specify the order details (size, printing color and quantity) before we proceed.