Shaped Paper Clips

Shaped Paper Clips refer to those wire or metal paper clips made into various shapes through wire or sheetmetal forming technology: animals, Christmas, cartoon characters, plants, vehicles, logos, etc. The shapes can be made by bent wires or sheet metals in iron, brass or stainless steel, etc. The size range is generally from twenty to fifty in millimeter. And special specifications could be also possible, owing to its excellent ductility and malleability in material.
Compared with those conventional, dreary, toneless styles which obviously can't fully satisfy diversified market demands, these shaped paper clips are greatly cuter, more creative, stylish and impressive. The use of these fun paper clips is just like adding spicies into your boring working days to help alleviate the pressure. Also, they are flexible on customization of making them into different outlines, sizes, materials and colors which would be not only terrific for your paperwork, but also a creative way for companies, or the individuality of your business to stand out from the clutter of market, promoting brand publicity and visibility.
Whether you are looking for generic shapes already exists in our collection, or a special clip in special logo or name outline for your next special event or promotion, both of them?technologically would not be a problem. The only thing holding us back is your vision. If you can dream it, we can make it!
Also, just as mentioned above, these cute paper clips have more uses than the conventional ones seen around us:
(1) Creative Stationery - They are creative stationery for the paper work of any organizations about books, binding papers, and numbering pages. A useful helpmate to keep papers organized, facilitating you to work effectively.
(2) Decorative Accessories – A terrific decoration for any gift books, envelopes, DIY greeting or invitation cards, gift packaging toppers, etc. They are also party or wedding favors to foster an atmosphere.
(3) Business Gifts – They are also fantastic for event favors for friends, customers, visitors to show the affection in various occasions: receptions, conferences, celebrations, holidays, etc.
(4) Promotional Gifts – Perfect for next promotion to show the individuality of your business, getting your ideas across via custom designs for logo paper clips. These fancy promotional paper clips are much more stylish, colorful, effective also economical than common flyers that are usually tossed out and ended up in garbage cans.
We are also specialized in manufacturing custom paper clips designed and made upon clients' requirements.
For all the paper clips shapes and styles in our product line, please visit the category of shaped paper clips for perusal. You can either place your order directly online or contact and send us the order details, specifying what you want from us, or how you would expect us to do for your project.
Also underhere are the overview in different themes:
Materials, Sizes and Prices

It usually depends on different paper clip technological requirements:

ø1.0mm iron wire

(in plastic coat or sprey-paint) - Usually for wire shaped paper clips in normal sizes.

ø1.2mm iron wire

- The 1.0mm wire material used for shaped paper clips can basically meet most of the needs: paper work, promotional gifts etc. But if you would like making them more rigid, ø1.2mm wire then is?probably a better choice, which would just drive up the shipping cost while the paper clip price has no much difference.

ø1.5mm iron wire

- For jumbo paper clips, we usually use ø1.5mm iron wire(or even 4mm for some special projects). For more details of jumbo-sized paper clips, you could refer to the category of jumbo paper clips to peruse. It can also be used to make wire?hat clips. For some special custom hat clips, we use steel wire to make clip strength more rigid.

Stainless steel wires

- We can also make paper clips with steel wires which are mostly in metallic colors. Comparatively iron wire has a better malleability and bendability, easy to shape, while steel wire usually has a better ductility in my view, harder to break.

Stainless steel sheetmetal

- For the printed metal paper clips or stainless steel paper clips, we are using high-quality stainless steel splint in the thickness of 0.2-0.3mm.
Soft silicone&wire - For PVC paper clips, then we usually use soft silicone plus iron wire.
For normal sizes of paper clips, they are mostly in 25-35mm. We can also make mini paper clips in 0.8mm iron or steel wire. And if they made into 50mm or bigger, we usually call them jumbo paper clips with 1.50mm or thicker wire.
In the choice of materials, here are the general rules:
(1) For general office paper work or promotional purpose, normally ø1.0mm wire will work.
(2) For jumbo paper clips (usually over 50mm), usually we use ø1.2-1.5mm wire material to make it stronger.
(3) For flat metal paper clips(usually with printing), it couldn't be better to use our stocked shape cos' the set-up charge of a custom design is usually insanely high.
The

PRICES

actually depends on how you would expect to process orders.
Generally the bigger the paperclip sizes are, the higher the prices are. It is also related to the material gauges, the ways of different surface color treatments such as plating, vinyl-coating, baking paint etc.
So it is important and necessary to specify your requirements before an accurate cost is worked out.
Technologies

How do we make different shaped paper clips? We usually do it by machine or hand.
(1) Made By Machine
In a matter of fact, common spring machine can deal with most of regular wire shapes: pentacle, rectangles, squares, triangles and some other simple styles while there's a higher request to the manufacturing machine for the other complicated ones. Especially for some words paper clips, we might have to handle it with some more sophisticated machines.
Machine-made paper clips look usually flatter, more well-proportioned, durable, and faster and more efficient to make. But which usually has a certain requirement on order quantity due to set-up charges.
(2) Made By Hand
We also provide some styles, mostly wire shaped paper clips, through handwork made by using hand-held molds. We used to make a certain number of molds according to the confirmed artwork, then organize a teamwork to proceed to the mass production. The advantage of Hand-made work is to provide a possibility of small-quantity wholesale for customers. We have all the styles classified into the category of "Retail Area"
Colors

(1) PE(vinyl) coated colors
We have a color chart in which there are some frequently-used Pantone colors in stock for orders. You can choose the color number of them which looks the closest match to your need without color-matching charges.
If you would like a PMS color for PE(vinyl) coated paper clips, then the requsted minimum quantity is usually 100,000 pieces per color without any extra color-mixing fee.
If you would rather pay the extra color-matching charge than order that much, please refer to the cost details as the list below. Usually the more you order, the less the cost will be.
(2) Spray-paint colors
Spray-paint (also called Baking Varnish) colors in some special PMS (Pantone Matching System) numbers call for a color-matching cost upon customer's request. The key point of this technology requires a good-quality workmanship otherwise the paint would easily brush off if it is not well done, simultaneously it can't cover all the joints, cracks and overlaps.
The advantage of spray(baking)-paint colors is, we can do any PMS color numbers based on customers' requests.
Once the color is made, we could proofread the color accuracy by high-resolution photos as shown below. The disadvantage is that spray-paint colors would incur an extra cost on making and baking colors. It would be not very recommendable if the color is not a very important issue while you could choose one from our stocked colors in stock which match your target color the closest.
(3) Electroplating colors
When we talk of metal colors, usually it refers to electroplating silver color. Other than that, they also can be made into electroplating silver, gold, rose gold, black nickel, bronze etc, or the recently favorable one: color-plating. Just like the mermaid shaped paper clips as posted above.
Electroplating colors usually have a nice sparkling luster, but the color options are comparatively fewer than plastic or baking-paint ones.
(4) Electrophoresis colors
It is becoming more and more prevalent with the emergence of spraying technology.
(5) Oxidized colors

We usually recommend the stocked colors in our collection for customers' orders because going with them, the color cost would be comparatively lower. You could check our color chart for reference.

But, if customers really want a PMS (Pantone Matching System) color for vinyl-coat wire paper clips, then there would be probably a color-matching charge, the costs decrease as the order quantities increase progressively as showed below. Once it exceeds 100 000pcs, then the charge is refundable upon the order approval.

| | |
| --- | --- |
| Quantity | Color-matching Fee |
| 5,000 pieces | US $120 |
| 10,000 pieces | US $110 |
| 20,000 pieces | US $100 |
| 30,000 pieces | US $80 |
| 40,000 pieces | US $50 |
| >=50,000 pieces | NONE |

Alternatively you can also have it made into spray-paint(baking varnish) colors. This is also a way to make custom colors for the projects starting with small quantities(usually 5 000 pieces at least). But then again, it would attract a color fee as well.
Terms of Minimum Quantity

(1) The minimum quantity mostly depends on the color issue.
For the standard colors as showed in our color chart, the minimum quantity is 5 000-10 000 pieces per color.
But if spray-paint colors are also acceptable for the wire shaped paper clips, then the minimum quantity could be around 5-10 000 pieces, just custom colors would cost additionally due to color-matching fee.
For a custom PMS color, the MOQ for vinyl-coated colors is usually 100 000 pieces each.
(2) As for the shapes for which we have hand-held molds or stocks, we can sell it in small quantities, but would probably take longer on production time.
(3) If you don't mind paying the set-up or mold charge additionally, then we could also go ahead with smaller quantities than normal standard.
Order Process

(1) Order from our stocked designs We have various categories in different themes as you can find on our website. If you would like an instant order, you could just search what you look for on our site, and finish the purchase directly within minutes.
(2) Order Process of custom wire shape paper clips
Step 1: First, you'd need submit us an image to illustrate, or a detailed narrative to show what you are looking for, and how you expect to make it into a solid paper clip. Also please advise the request on color, quantity of shaped paper clips if there's any.
And please

do not forget to inform us the deadline

of order delivery beforehand if you would like the order for an urgent event which would quite help for us on how to deploy our work.
Step 2: Second, usually we have an artwork/mock-up provided for approval with the relevant information such as price, size, payment method available etc to move forward.
Step 3: Third, upon the bilateral agreement, we would press ahead the mass production for customer's order upon the order approval and payment.
The production time usually take 12-15 days for a regular order upon the approval. But the duration finally depends on the actual quantity.
Step 4: After the completion of order, we would provide some high-resolution photos to show the status of goods condition. Also, the balance should be down if it is a partial payment. For a large amount, it is usually done upon the copy of Bill of Lading.
Step 5: After the confirmation on shipment, we will deliver the goods as soon as possible, providing the tracking number. For the shipping methods, please visit the Shipping Options page to learn more.
(3) Order Process of printed stainless steel paper clips
We also have the business of printed metal paper clips in our line which are usually made of stainless steel metal material, and you can put any imprinting on one side or both sides.
For the more details of products, please visit

Printed Clips

for perusal.
As for the order process of printed metal clips, here are the options:
Option 1
You could use directly our existing frequently-used models/shapes, forward us the files in .eps or .pdf format for the print if there's any.
Option 2
If you would like a new model in different sizes,then there would need a mold charge, please contact us for the mold fee upon the actual size you are looking for.
The other steps of order process of printed paper clips are similar to the ones of shaped paper clips:
Step 1: Forward us order details & requests;
Step 2: Submit mock-up designs / artworks and confirm prices, sizes, turnout time;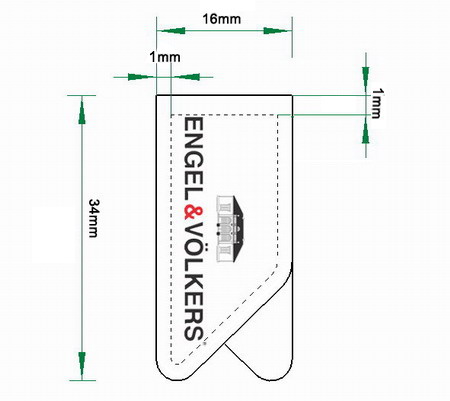 Step 3: Make payments, and proceed to the production;
Step 4: Arrange the shipping upon confirmation, provide tracking number.
Payment Options

To be clear, all the prices for the stocked and custom products are based on FOB China's port or C&F(CNF, cost+freight) terms.

That means, if you would like a compensation for the damage, missing of your packages caused by various unexpected situations or force majeure factors such as customs inspection, governmental requisition, strike, incident of violence, war, earthquake etc, you would probably need a third-party issurance to secure transporation and payment though, in most cases, these issues won't happen.

Also, if your order is for an urgent specific event or promotion, please do not forget to advise us the deadline for use, so that we can prearrange the idealest shipping route for the delivery, otherwise we are not reponsible for the loss caused by shipping delay.

Here are the available options for payment methods:

1. Credit/Debit Cards (Via Paypal invoice)

We are inclined to process payments with credit/debit cards via Paypal as a intermedium since we are in China.

We are not sure how payments flow directly between credit cards transnationally, so we use Paypal as a bridge for the payment.

However it doesn't require you to have a Paypal account for the payment. We would send you a Paypal link once all is confirmed. And you could visit and get it done within minutes via the credit/debit card channel as below. It is safe and convenient(with a money-back guarantee and dispute system), and would only need a few simple steps.

2. Wire Transfer

For the amount over US $1 000), in most cases it would be more economical but slower to proceed via bank transfer fully, or partially to save the transaction fee. You can process the payments through our private bank account by filling out the payment purpose as "labor fee", "service fee", "family maintenance remittance" etc due to the current foreign exchange control or do it via the account of our export agent as below.

Bank information(pay by T/T):
A/C Name: STARGOOD INDUSTRIES(HK) CO., LIMITED
A/C No: 112 245998838
A/C Address: UNIT 04 7/F BRIGHT WAY TOWER 33 MONG KOK RD KL
Bank Name: HSBC Hong Kong
Bank Address: 1 Queen's Road CentralHong Kong
Bank SwiftCode: HSBCHKHHHKH

You might also need to provide commercial invoice and duty-paid proof. It usually takes 3-5 workdays to arrive for wire transfer.

3. Other Methods

Western Union and any other payment methods would be also workable if we both agree on that.
Packaging Options

The default packaging is to pack the paper clips into polybags by bulk such as 300-500pcs per bag, NOT 12pcs per bag as some customers assume.
Pouch or box packaging with small quantities for each (for example, 15-30pcs per bag or box) will usually require an extra packing/handling cost. Here are just some options presently for the packing use.
(1) Polybags
All the orders are packed with poly-bags in bulk (Usually 3-500pcs per bag) if customers have no special request on packaging. And we provide polybags for free of charge.
But if customers would like the paper clips packed into polybag pouches such as 10 clips per bag, 20 clips or 30 clips per bag, that would incur a surcharge of packing fee.
(2) Tin Boxes
Tin boxes look greatly classy, combining practicality with elegance. We have different specifications of tin boxes for different requirements. And you can also put a sticker on the lid, or make a print directly on it.
We also have a variety of featured tin boxes as below:
(3) Plastic Boxes
Plastic crystal boxes look clear, neat, luxury while economical. It is perfect for packaging various paper clips for any events or promotions.
(4) Paper Boxes
The minimum quantity of paper box is around 5 000pcs, but negotiable for different specifications. And customers have to specify the details such as dimensions, cardboard specifications, and print if there's any.
(5) Blister cards
This package is usually for the sale of supermarket, emporiums with its hanging hole design. And customers have to specify the relevant details as paper box as well: dimensions, prints etc.
Also if you would like a custom packaging designed and made upon customers' requests, then please share your ideas with us, so that we can check the availability with our associated suppliers.
Contact & Inquire Us

If you are looking for a custom solution for your project, or anything you could count on us, please just contact us for a further direct discussion via Contact US page or the information below:
E-mail: inquiry@custompaperclips.com
Tel: +86 575 8335 3700; +86 152 6751 1098
You could also refer to the related page as below to learn more.
paper clips, logo paper clips, jumbo paper clips, decorative paper clips
Thanks for your attention!
Jack Chou
Some important guy